Google: Black-owned Friday
T-Pain, Normani, Desi Banks, and more than 50 Black-owned businesses come together to celebrate the second annual #BlackOwnedFriday. From beauty products to home goods, shop over 100 featured products. On Black Friday and every day, search, shop, support Black-owned.
TYPE: BRANDED MUSIC VIDEO & INTERACTIVE EXPERIENCE CLIENT: GOOGLE AGENCY: BBH
BACKGROUND
In 2020, in partnership with the U.S. Black Chambers Inc., Google worked with BBH USA to launch Black-owned Friday—a reminder on the busiest shopping day of the year to search, shop and support black-owned businesses. In 2021, we wanted to maintain the momentum and find a way to directly impact many more businesses.
WAKE UP WAKE UP
We turned to lyrical maven T-Pain to craft a song to encourage consumers to support Black-owned businesses as they embark on their holiday shopping. The film, brought to life by Nigerian-born director and music video visionary Daps, features several influencers including singer Normani, comedian Desi Banks, and emerging singer/actress Tanerélle.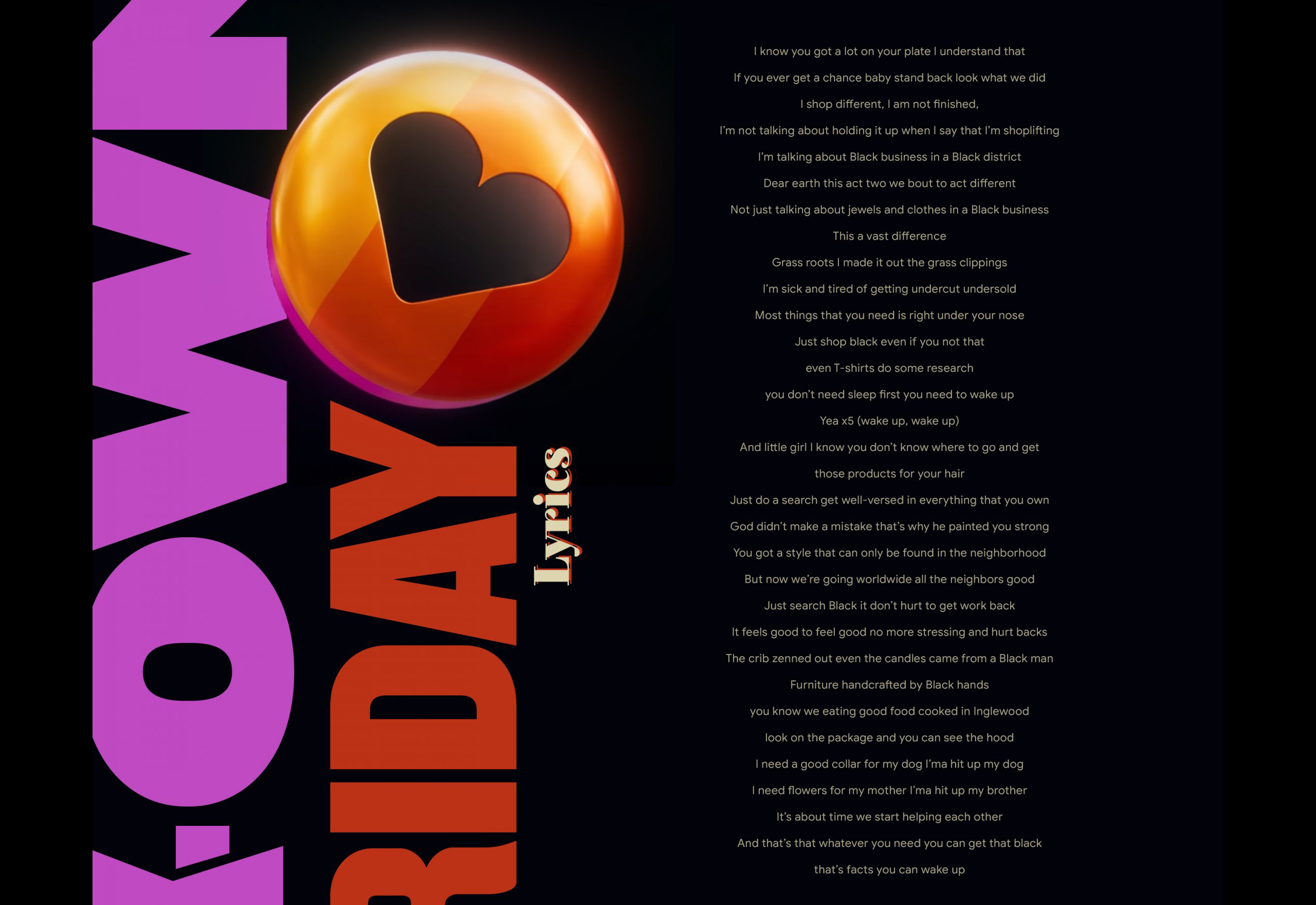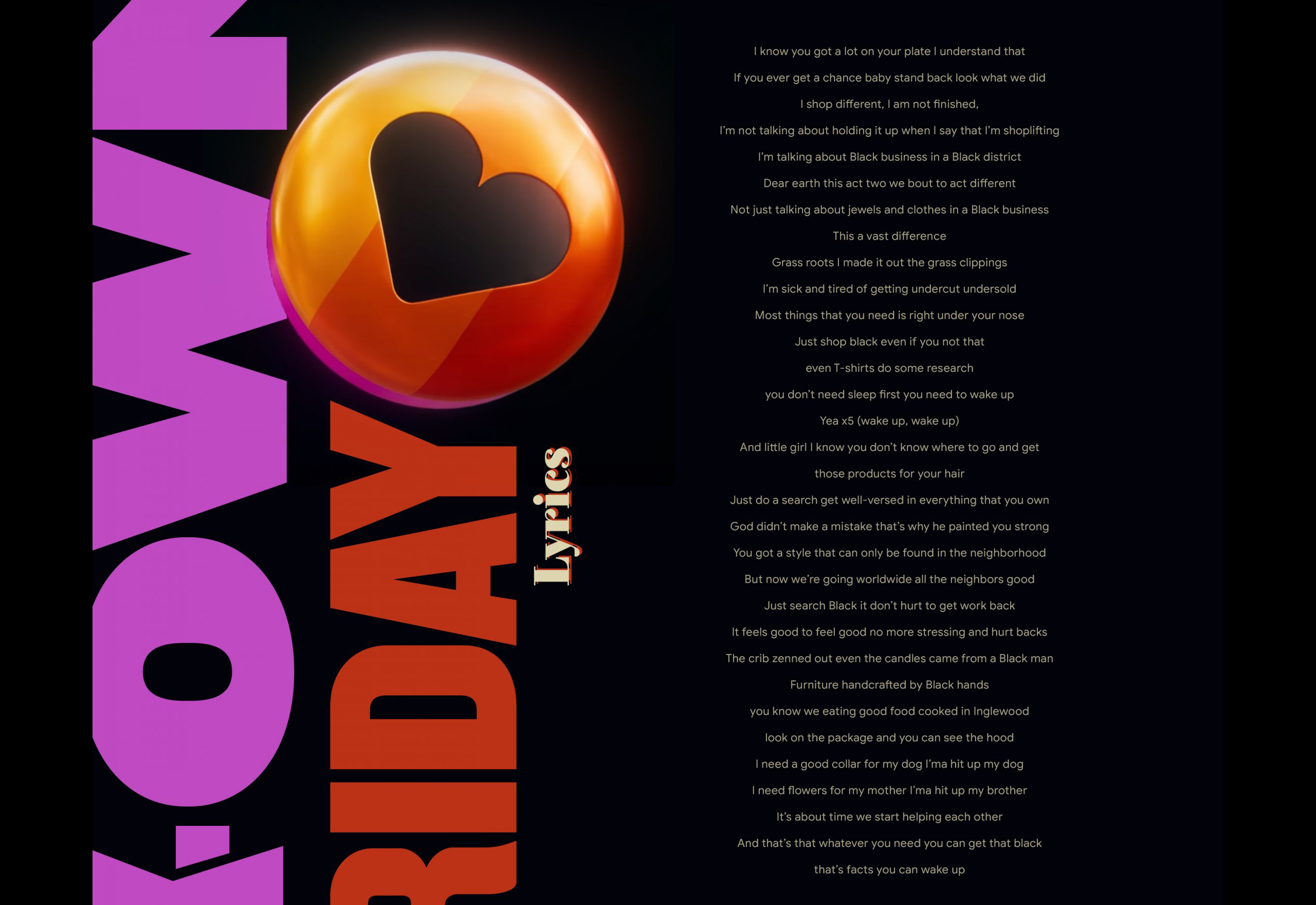 INTERACTIVE EXPERIENCE
We brought the song to life via a fantastical interactive film that lets people shop 100+ products from over 50 different Black-owned businesses directly from each scene on a custom microsite, and raised awareness of the Black-owned business badge.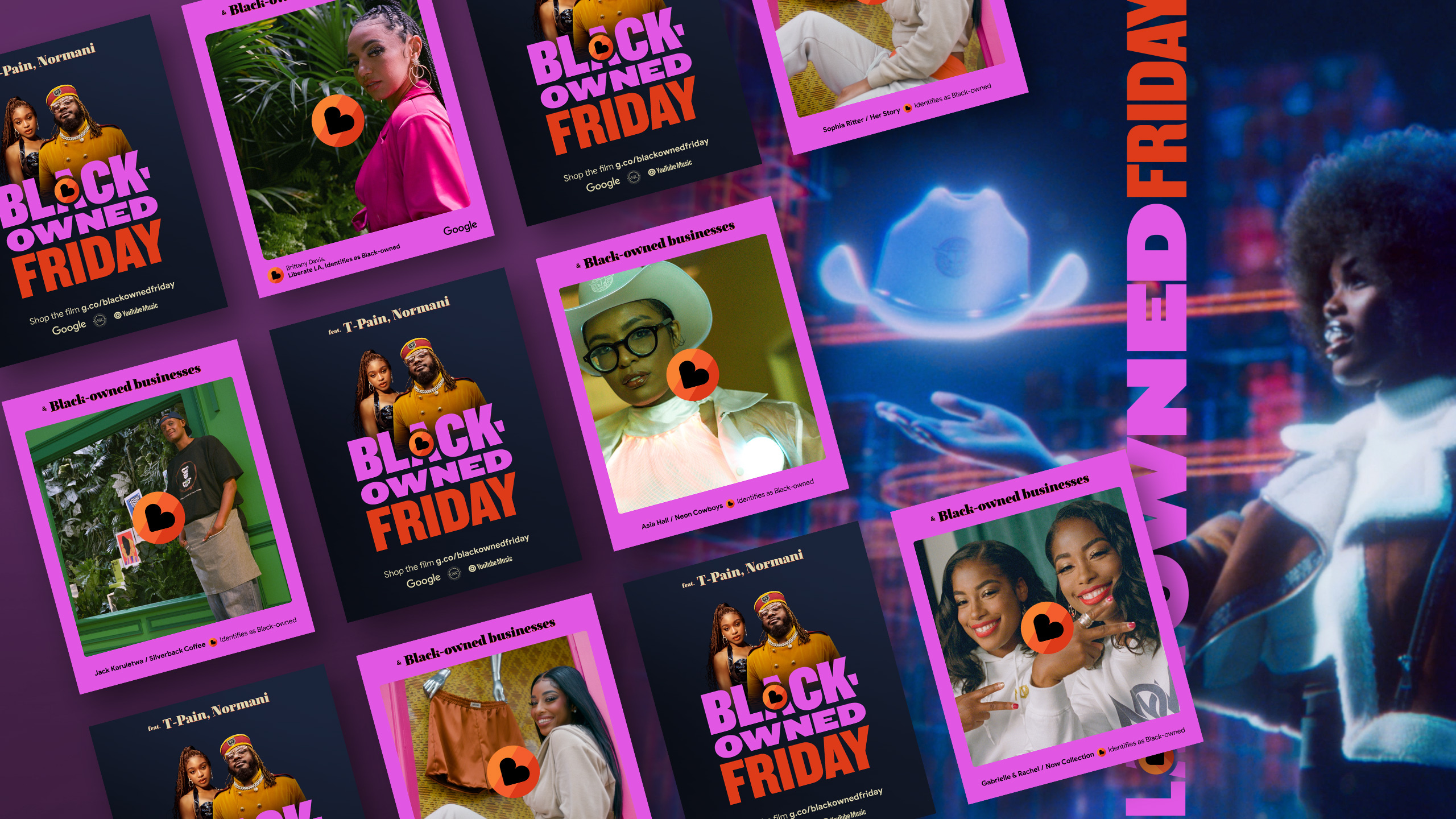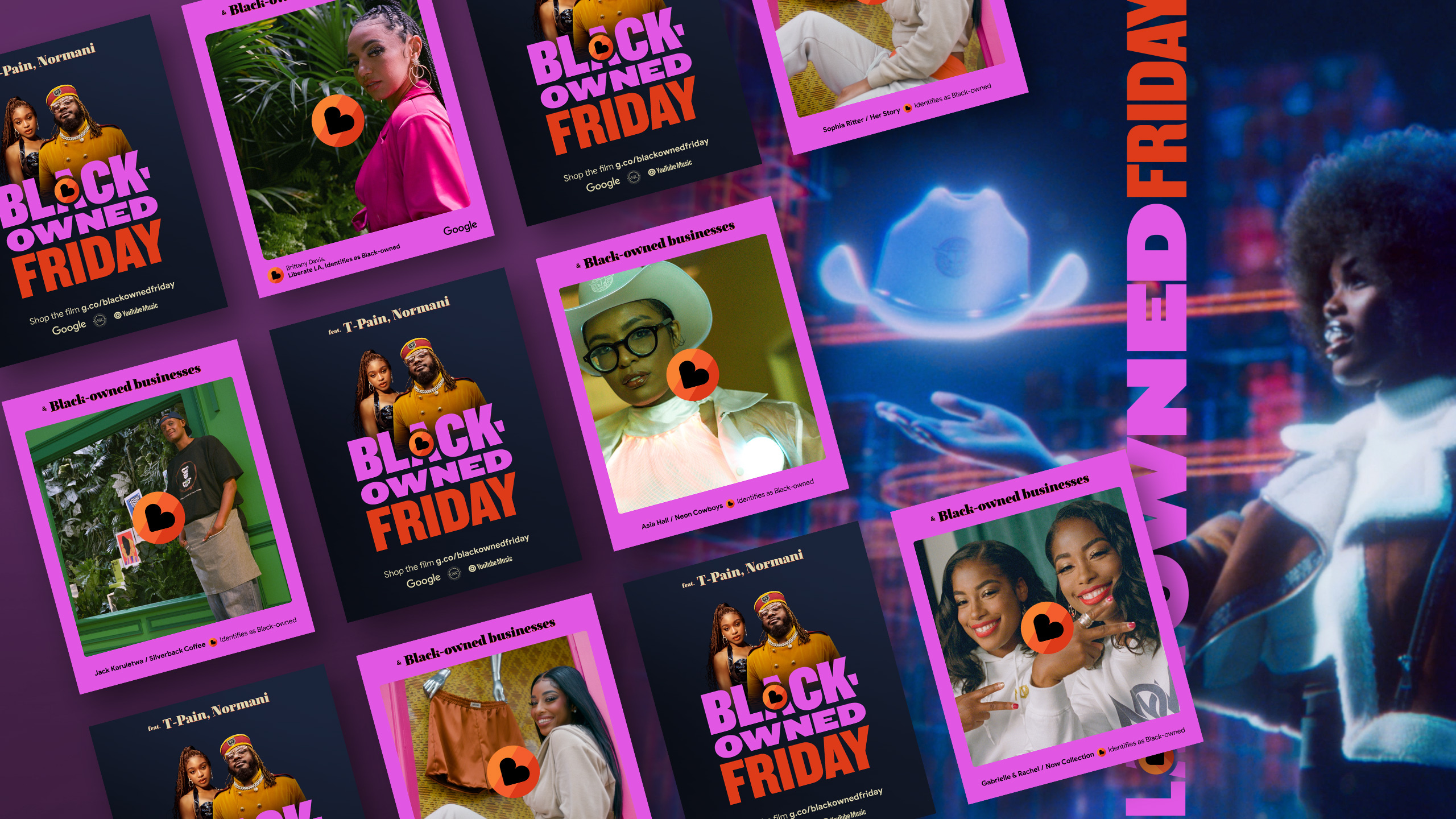 GETTING THE WORD OUT
Digital billboards in Atlanta and Los Angeles, featured T-Pain, Normani, and messaging directing people to shop on the website. A bus drove through NYC amplifying our message by playing the film and giving away products from featured businesses. And participating celebs and businesses blasted the film and links from their social channels.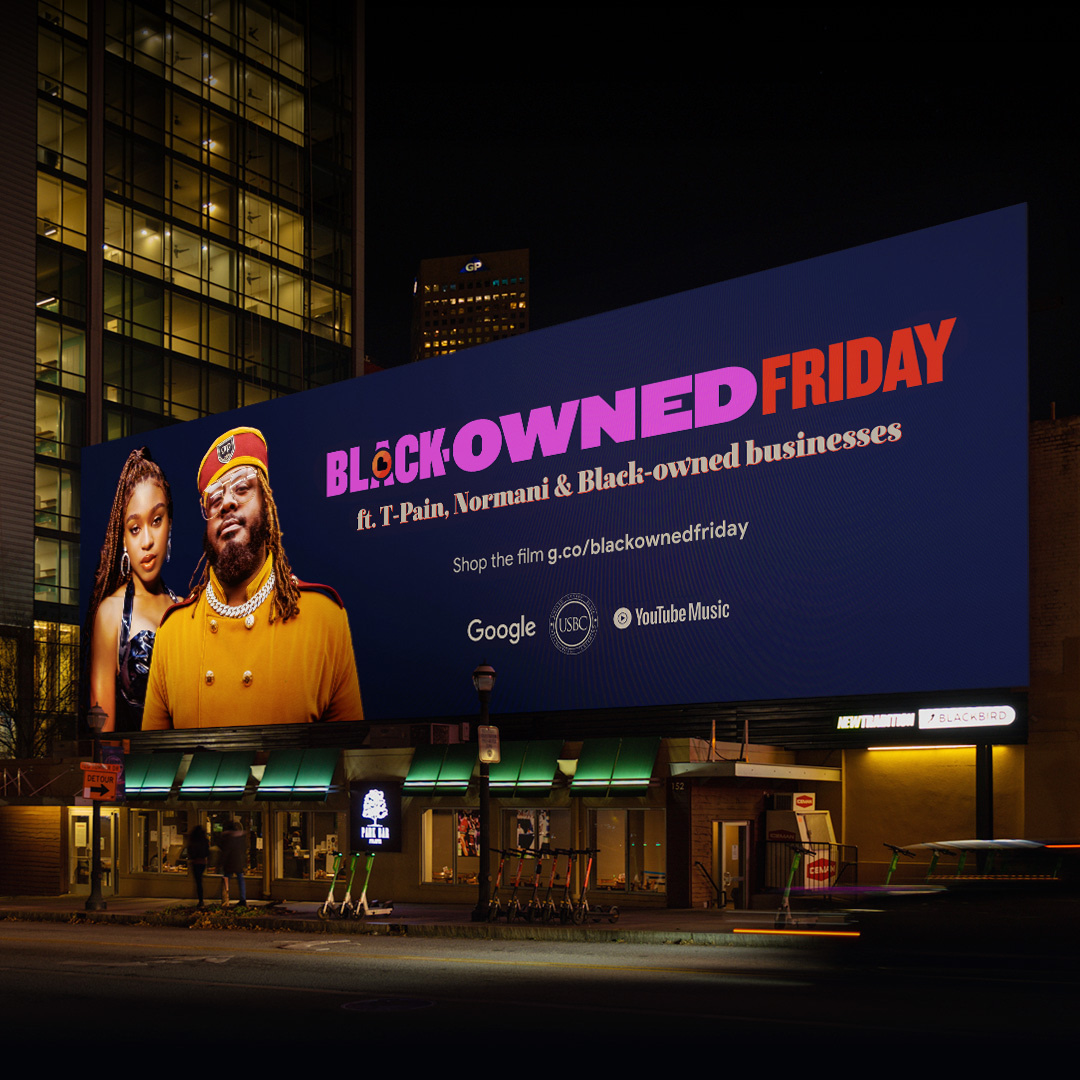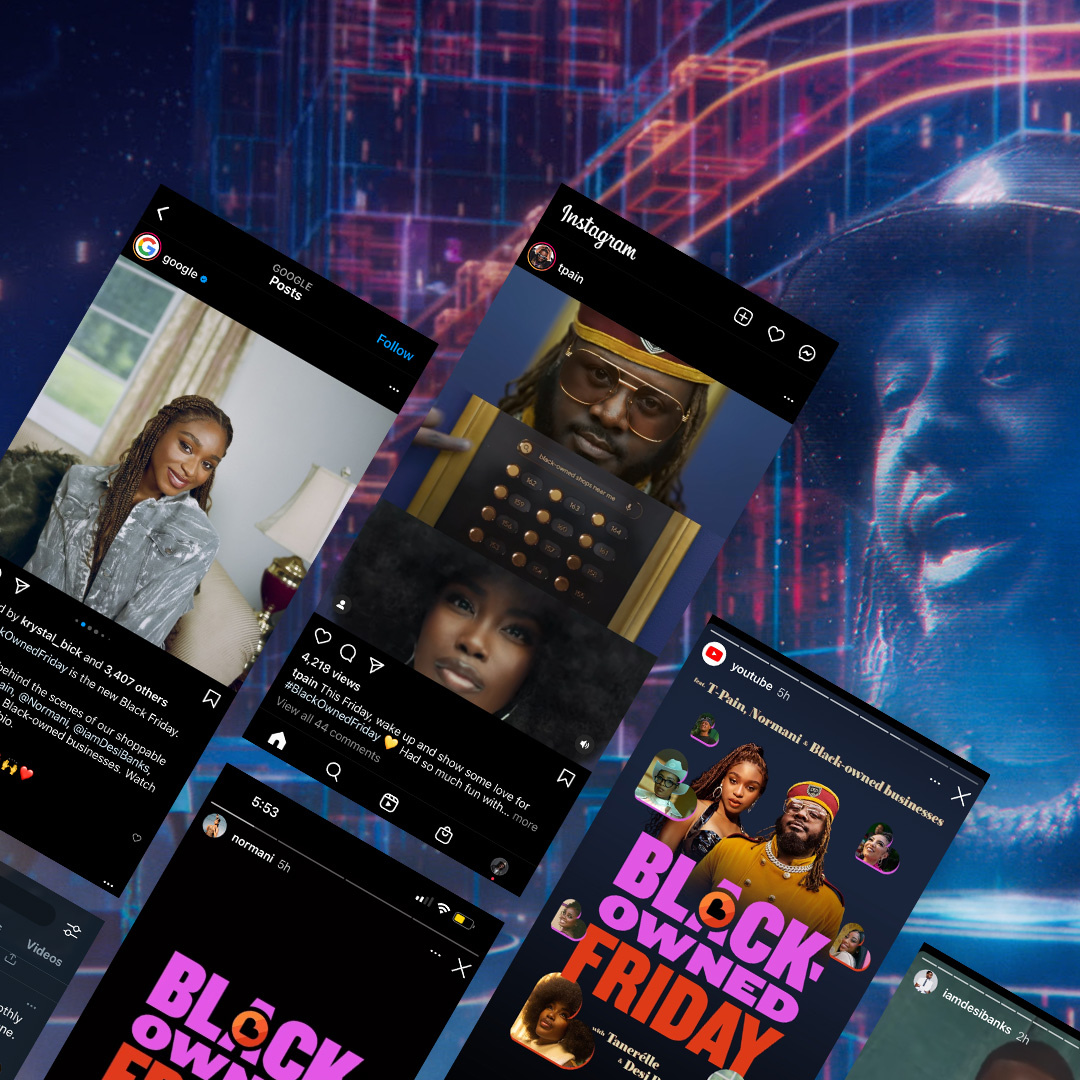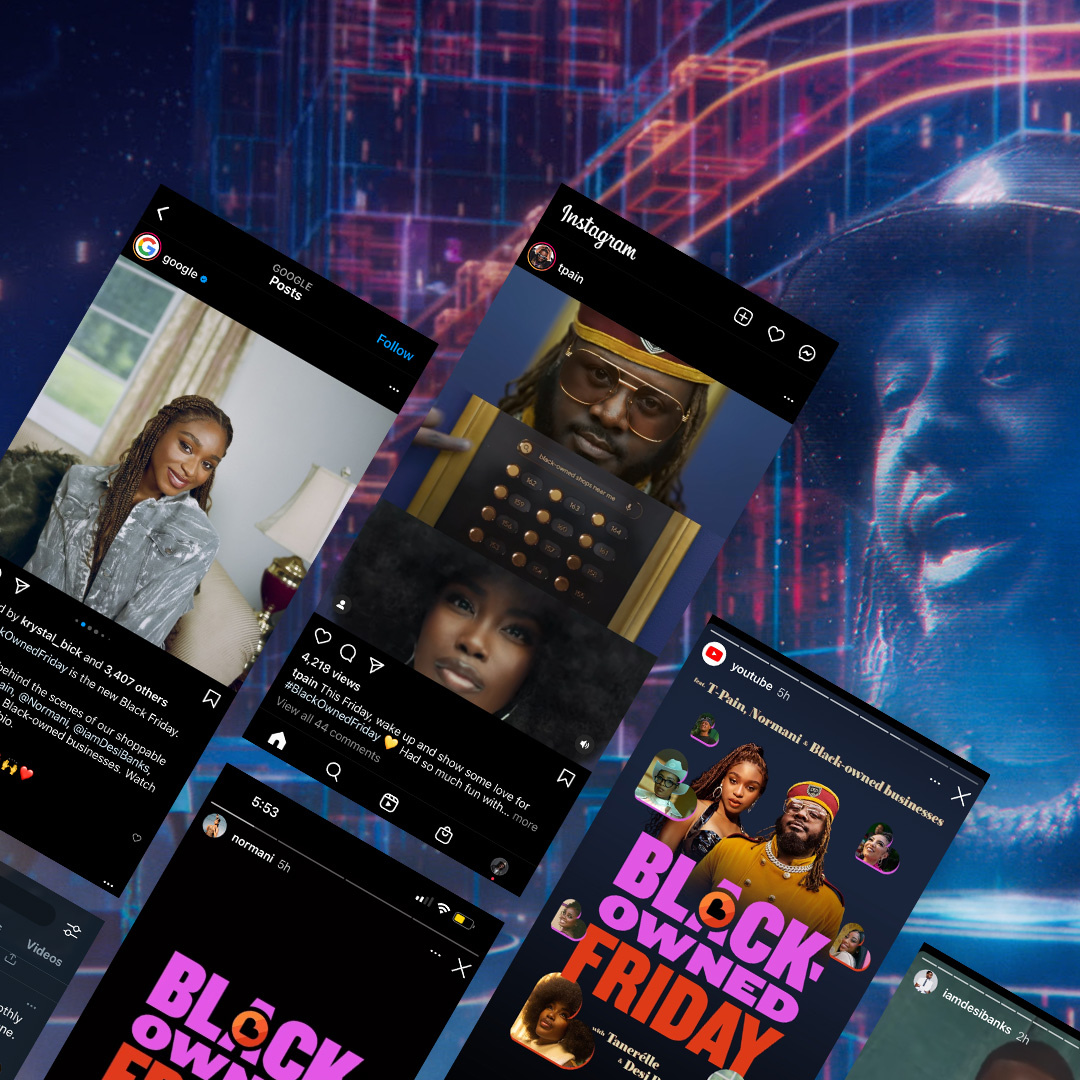 RESULTS
The campaign was picked up in over 60 publications that have a total of 3.71B consumers in readership. The query "black owned shops near me" grew 610% during the week of Black Friday and Cyber Weekend. Searches for "black-owned businesses" more than doubled. And social conversation around Black-owned businesses increased 115% in posts and 83% in overall mentions.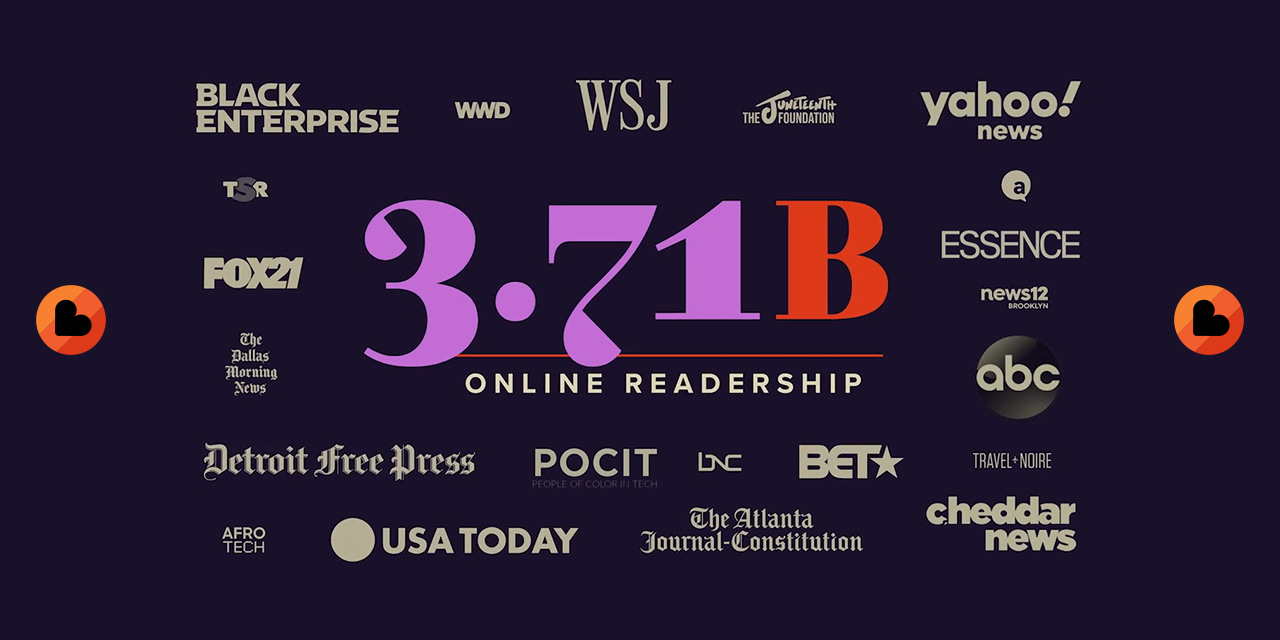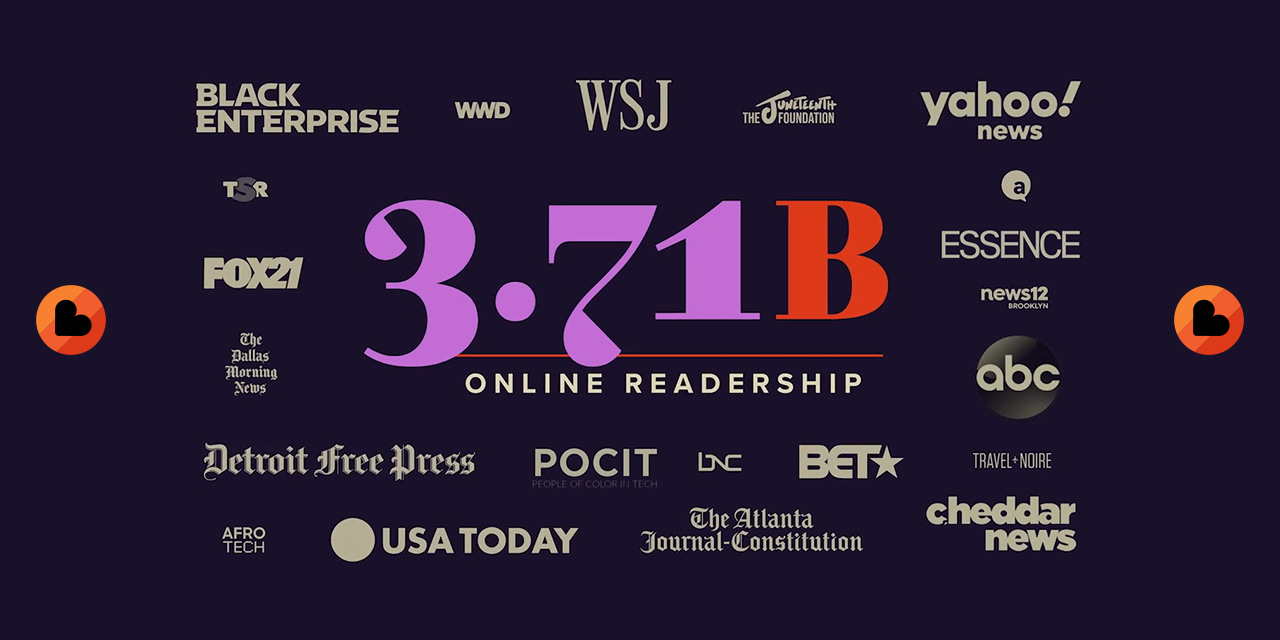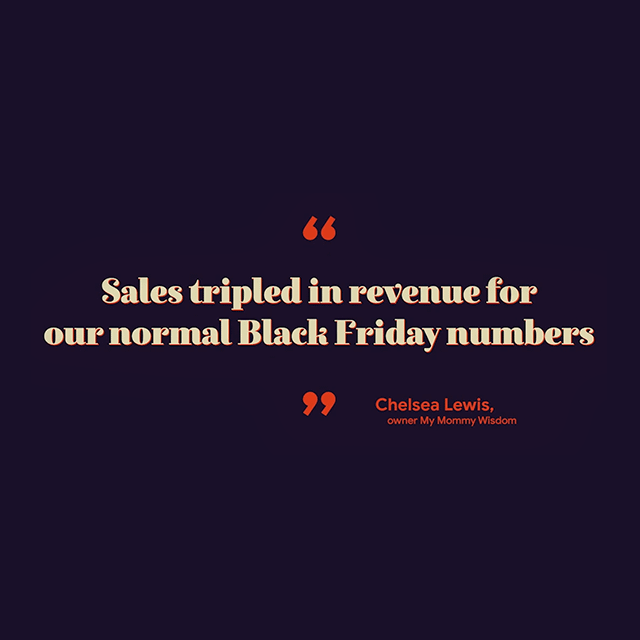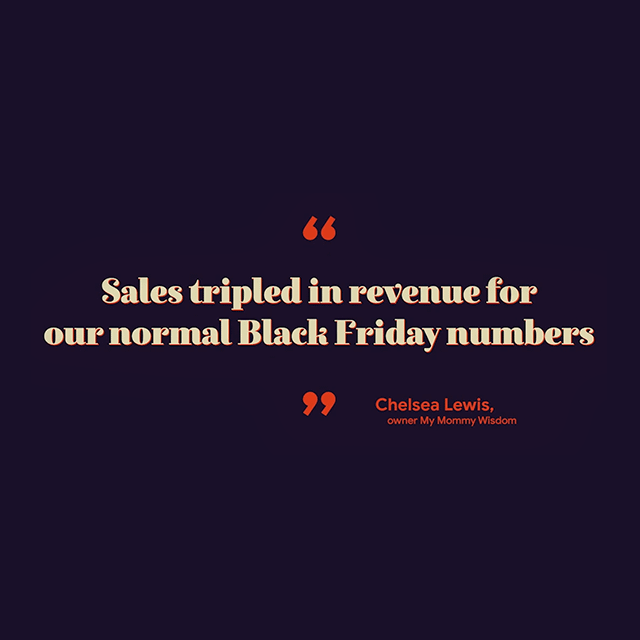 AWARDS
Cannes Lions - Gold - Entertainment Lions For Music - Brand Partnership (2022)
Cannes Lions - Gold - Digital Craft - Music/Sound Design (2022)
Cannes Lions - Silver - Film Craft - Original Music (2022)
Cannes Lions - Silver - Direct - Cultural Insight (2022)
Cannes Lions - Shortlist - Titanium Lions (2022)
The Andys - Gold - Craft (2022)
Clio - Grand - Social Media - Social Video (2022)
Clio - Silver - Branded Entertainment - Audio (2022)
Clio - Silver - Branded Entertainment - Film Scripted (2022)
Clio - Silver - Branded Entertainment - Music (2022)
Clio - Bronze - Digital/Mobile - E-commerce (2022)
Clio - Bronze - Digital/Mobile - Microsite (2022)
Clio - Shortlist - Film - 61sec-5min (2022)
Clio - Shortlist - Film Craft - Copywriting (2022)
Clio Music - Silver - Use of Music in Audio (2022)
Clio Music - Bronze - Use of Music in Film/Video (2022)
Webby - Winner - Advertising/Branded Content - Diversity (2022)
Webby - Nominee - Advertising/Craft - Copywriting (2022)
Webby - Nominee - Video/Branded Entertainment - Diversity (2022)
The One Show - Fusion Pencil (2022)
The One Show - Best in Discipline - Integrated (2022)
The One Show - Gold - Integrated - Integrated Branding Campaign (2022)
The One Show - Silver - Branded Entertainment - Art Direction (2022)
The One Show - Silver - Interactive - Online-only Video (2022)
The One Show - Silver - Interactive - E-commerce (2022)
The One Show - Bronze - Branded Entertainment - Music Videos (2022)
The One Show - Bronze - Interactive - Interactive Video (2022)
The One Show - Bronze - Music & Sound Craft - Brand Collaboration (2022)
The One Show - Bronze - Design - Moving Image (2022)
The One Show - Merit - Film - Online Film/Long Form (2022)
The One Show - Merit - Branded Entertainment - Long Form Video (2022)
The One Show - Shortlist - Moving Image Craft - Production Design (2022)
The One Show - Shortlist - Moving Image Craft - Direction (2022)
The One Show - Shortlist - Cultural Driver (2022)
AICP - Winner - Original Music (2022)
AICP - Winner - Web Film (2022)
AICP - Shortlist - Concept (2022)
D&AD - Wood Pencil - Casting - Film (2022)
D&AD - Wood Pencil - Digital - Promotional Websites (2022)
D&AD - Wood Pencil - E-Commerce - Entertainment (2022)
D&AD - Shortlist - E-Commerce - Entertainment (2022)
D&AD - Shortlist - Impact - Initiative (2022)
D&AD - Shortlist - Direct - Film (2022)
D&AD - Shortlist - Integrated - Content Led Campaigns (2022)
Campaign Power of Purpose - Finalist - Brand Purpose (2022)
Ciclope - Finalist - Production Design (2022)
Ciclope - Finalist - Original Music (2022)
CCO
Rafael Rizuto

GROUP CREATIVE DIRECTOR
Estefanio Holtz

GROUP CREATIVE DIRECTOR
Kasia Canning

CREATIVE DIRECTOR
Ty Johnson

CREATIVE DIRECTOR
Danny Yirgou

DESIGNER
Aedan Clark

MOTION DESIGNER
Yuan Guo

COPYWRITER
Chris Davis

PRESIDENT
Amani Duncan

EXECUTIVE PRODUCER
Kyra Beckmann

BUSINESS DIRECTOR
Miranda Hardy

GROUP ACCOUNT DIRECTOR
Maleika Cole

PRODUCER
Meetra Javed

ACCOUNT SUPERVISOR
Sonali Shukla

ACCOUNT MANAGER
Jay McGill

STRATEGY DIRECTOR
Beth Beckman

SENIOR STRATEGIST
Timanni Walker

BUSINESS AFFAIRS DIRECTOR
Alice Isner

BUSINESS AFFAIRS DIRECTOR
Daniella Vargas

BUSINESS AFFAIRS
Yasmeen Taylor

HEAD OF PRODUCTION
John Connolly

SUPERVISING PRODUCER
Kerry Mack

PRODUCER
Sara Lacombe

EXECUTIVE PRODUCER
SueEllen Clair

DP
Rob Witt

ART DIRECTOR
Cody Fusina

BTS PHOTOGRAPHER
Mahaneela

PRODUCT PHOTOGRAPHER
Danielle Alston

RETOUCHING
Ty Johnson, Dippin' Sauce, Ben Taylor

ASSISTANT EDITOR
Chris Kelley

SENIOR PRODUCER
Kate Smith

VFX SUPERVISOR
Tim Little

CREATIVE DIRECTOR
John Price

FLAME ARTIST
Connor Mullaney

MOTION DESIGNER
Matt Beharry

COLORIST
Sofie Friis Borup


SOUND DESIGN - SONIC UNION

SOUND ENGINEER
Steve Rosen

CREATIVE DIRECTOR
Neil Cooper

DESIGN DIRECTOR
Ant Hurlstone

UX DESIGNER
Vasileios Matsoukas

LEAD DEVELOPER
Steve Hall

DEVELOPER
Tautvydas Pocius

QA MANAGER
Claire Maillot

HEAD OF PRODUCTION
Ian Applegate

SENIOR ACCOUNT DIRECTOR
Blair Richardson

SENIOR PRODUCER
Alicja Czarnecka

PRODUCT MARKETING MANAGER
Nicholas Underhill

SENIOR DIRECTOR, SMALL BUSINESS MARKETING
Claire Mudd

PRODUCT MARKETING MANAGER
Wendy Gonzalez

PRODUCT MARKETING MANAGER
Lisa Hiatt

MUSIC
T-Pain, Normani

QVC HOST
Desi Banks

SHOPPER
Tanerélle

BUSINESS OWNER (SWÉ ACTIVE)
Gemini Georges

BUSINESS OWNER (HER STORY)
Sophia Ritter

BUSINESS OWNER (LIBERATE LA)
Brittany Davis

BUSINESS OWNER (NOW COLLECTION)
Gabrielle & Rachel Newman

BUSINESS OWNER (SILVERBACK COFFEE OF RWANDA)
Jack Karuletwa

BUSINESS OWNER (NAPPILY NATURALS)
Umaar Norwood & Sharon Williams-Norwood

BUSINESS OWNER (NEON COWBOYS)
Asia Hall